At the local dog park, we met a Border Collie puppy, Molly, and their human. While our dogs played together, I was able to learn more about the smartest dog breed from the three-time Border Collie owner.
Specifically, I was curious how she keeps her border collie entertained at home between exercise and outings. She shared what worked with her Border Collies and some of Molly's favorite toys, puzzles, and chews.
I may get commissions for purchases made using links in this post (at no extra cost to you).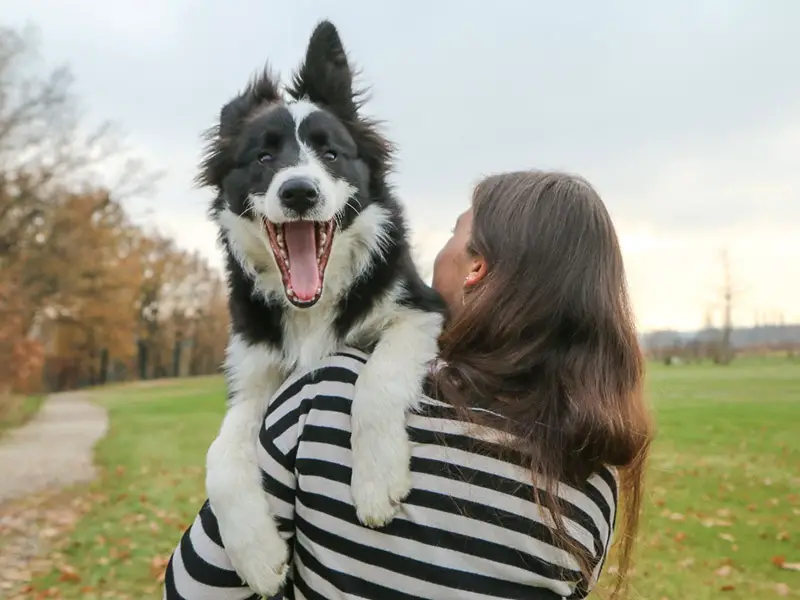 Kong Classic Dog Toy – As the name suggests, this is a classic, multi-function dog toy and one of our dogs' favorites. Bounce it, stuff it, or fetch it. And the safe, durable material stands up against aggressive chewers.
AWOOF Snuffle Mat Pet Dog Feeding Mat – Molly gives this mat two paws up! This treat or kibble foraging fun keeps dogs engaged while hunting for tasty treats. According to the reviews and Molly's owner, it's very durable and machine washable. I've ordered two (we have to order two of every toy to keep the peace) and will update this post with our pup's personal experience.
Starmark Treat Dispensing Chew Bay Tough Dog – Another Bindi/Banjo favorite! Bonus, it doubles as a great fetch ball. It can be a bit challenging to fill with your dog's favorite small treats. Hint, if the treat gets stuck in the prongs at the opening, simply trim off a bit of the plastic for a larger opening.
Busy Buddy Bouncy Bone Treat Dispenser Toy – This multi-function toy is one of Molly's favorites. It bounces, and has a nylon bone plus treats! The natural rawhide pack refills are more affordable than the Starmark but according to the reviews, they do not last quite as long.
Starmark Everlasting Bento Ball with Dental Treat – These safe and durable dog treats keep the dog's attention to help prevent destructive behavior. However, our super chewer Cattle Dog duo made quick work of the treat. We had to refill too often which can be costly. After a few months, we switched to filling it with peanut butter which seems to keep their attention almost as long.
Kong Gyro Dog Toy – Our dogs really enjoyed playing with this for about 10 minutes, until they retrieved all the treats. Then, Banjo gnawed on the red ring for a few minutes leaving sharp edges. This toy should be given for short, supervised, limited periods. With our aggressive chewers, it was not as durable as their other Kong toys.
StarMark Bob-A-Lot Interactive Dog Toy – There's a reason there are so many high reviews for this dog treat dispenser. Fill with your pet's favorite treats for an active puzzle between meals. Or to dispense their kibble at mealtime to slow down their chewing and provide mental stimulation.
Puller Midi 8" or Standard 11" Fitness Tool Dog Toy – This toy's claim to fame boasts that twenty minutes of puller playtime can exercise as much as a 5k run. Endorsed by several dog trainers, including ours.
Wobble Wag Giggle Ball Dog Toy – With the wobble wag ball, there isn't an on/off switch and no need for batteries. The giggle sounds come from three tubes inside the ball. The exterior of the ball is suitable for aggressive chewers, but remember to supervise your dog to ensure they do not consume pieces that fall off of this or any toy.
Outward Hound Dog Treat Puzzle – This interactive treat hide and seek game is a great way to keep your pup busy. Molly enjoys this challenging puzzle and is learning to solve it more quickly each time.
Homemade Toys and Puzzles
For sustainable solutions, there are plenty of homemade/DIY toys for your Border Collie. Here are some ideas using household items. Remember, for safety, it's recommended to supervise your dog when they play with new toys, monitor the toy's durability or limit playtime.
A tennis ball is an old-school fetch resource.
Sock n' ball with an old sock and tennis ball for modified tug or through tow.
Durable rope toy, with or without a ball added.
Shag rug for a DIY forage mat.
Toilet paper tube treats dispensers can be filled with treats with the sides folded or filled and frozen.
When your Border Collie spends time alone, a plush stuffed animal or one of the family's pieces of old clothing or bedding can help decrease anxiety and help the dog feel comfortable.
Dog Toy Safety
Since there's not a regulatory agency for dog toy safety, the responsibility for selecting safe dog toys lies with the pet owner. Here are a few steps you can take to help keep your Border Collie safe during toy time.
Always supervise your dog with any new toy to determine durability and safety.
Ensure the toy is age and size appropriate.
Ensure the toy is made from non-toxic materials.
Remove any strings, ribbons, buttons, or other parts that can be swallowed and potentially cause digestive problems.
Monitor any speaker toys to make sure the noise-making unit doesn't become exposed.
Consult with your veterinarian for their recommendations.
Related Posts