All dogs need physical activity and exercise, and German Shepherds, in particular, need a LOT of it. Helping your pup get some much-needed physical activity could entail frequent walks, sometimes three to four times daily, plus lots of exercise and play.
For some breeds, that's a perfect recipe for a well-behaved and happy pup. Intelligent and high-energy dog breeds like German Shepherds can also benefit from mental stimulation.
According to the American Kennel Club, mental stimulation is just as essential to a dog's routine as physical activity and can ease behavioral difficulties. German Shepherds in particular—working dogs bred for their intelligence and physical capabilities—require a significant amount of mental activities.
So, what are the best puzzles for german shepherds?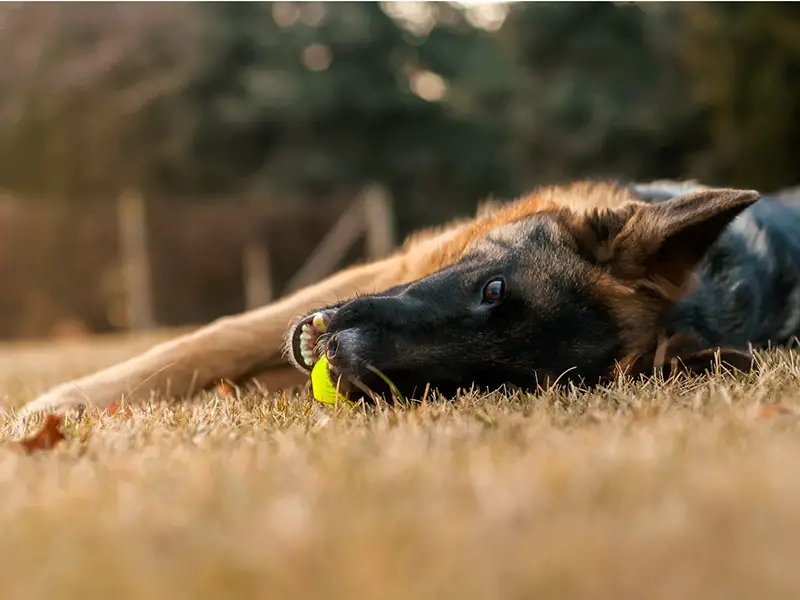 How can I mentally stimulate my German Shepherd?
Lucky for you, mental stimulation and enrichment can come in a variety of forms, from training and agility courses to our favorite: puzzles and toys. There are loads of games, toys, and puzzles available in a variety of shapes and sizes in today's market that can help provide your pup with entertainment and enrichment (and the odd treat).
Given the wide variety of options to choose from, it can be tough to know where to start. To help you out, we've rounded up the Top 10 Best Dog Puzzles for German Shepherds.
10 Best Dog Puzzles for German Shepherds
Your dog will love licking and chewing for tasty treats hidden inside his or her KONG. Fill the interior with your dog's favorite healthy snacks (peanut butter, Greek yogurt, pumpkin, broth, etc.) to create an interactive meal your dog will enjoy for hours. Made from strong plastic, the toy is great for big, heavy chewers like Shepherds, and can be thrown, tossed, or rolled around while keeping its form. Plus, as an added bonus, KONGS can be easily frozen to make things just a bit more challenging (and longer-lasting), so we recommend prepping a few in advance and keeping them at the ready in your freezer.
Considered the most entry-level toy crafted by this well-known Swedish brand, the puzzle will encourage your Shepherd to sniff and nibble his way to treats hidden beneath each of nine bone-shaped compartments. Just insert a few kibbles or treats in each compartment and let your dog go to work, or up the ante using the built-in advanced option. This puzzle is BPA-, PVC-, and Phthalate-free, so you can feel good about giving it to your dog.
Outward Hound has you covered again with this Hide 'N' Slide toy, featuring non-removable parts that swivel to reveal hidden treats, and a non-slip base to keep the toy squarely in place. Plus, made of composite wood (which isn't likely to splinter or break) and featuring an intricate design, this puzzle has a more modern, aesthetically-pleasing look than other toys on our list. With just over 46,000 5-star reviews on Amazon, the Hide 'N' Slide toy is a sure fit to please your pup.
Snuffle mats are designed to encourage your dog to smell and dig for treats as it might do in the outdoors, relying on your dog's instinct to forage through grass and leaves in nature. With layers of fabric perfect for hiding kibbles, Paw 5's mat is easy to fill but difficult to ace: just pour your Shepherd's favorite treats onto the mat and tuck them in wherever possible and watch your pup sniff out all the various hidden treats. As an added plus, this mat is machine washable, so, unlike the other plastic toys on our list, cleanup is easier than ever.
If a regular snuffle mat is too easy for your pup, HALOVIE's colorful spread is the perfect challenge to encourage problem-solving while fostering your dog's sense of smell. With an anti-slip base and made of soft fleece that makes this ideal for anywhere in your home, or for travel, this puzzle is sure to entertain your dog.
Give your Shepherd the mental and physical activity he or she craves all at once with this treat dispenser ball by Pet Zone IQ. With multiple inserts, the ball can easily be customized to suit your dog's needs as they grow, and is a perfect tool for play, problem-solving, and, best of all, eating.
Featuring a sturdy and durable base and made of natural bamboo, this puzzle feeder should easily provide your Shepherd with hours of entertainment and enrichment. Fill the canisters with treats, or even your pup's kibbles, and watch as they solve the puzzle. Great for any dog, this puzzle is also an ideal fit for pups that eat too quickly, as the work required to solve this puzzle can help your pup keep a slower pace.
Unlike other toys on this list, this puzzle doesn't involve food, but that won't stop your pup from having a blast as he or she works to pull the small squirrels out of their "trunk," relying on dogs' basic instinct to borough—perfect for a long-snouted pup like a Shepherd. Your dog will love playing hide-and-seek with the squirrels, while the easy cleanup is good for you: once all the squirrels have been removed, simply plop them back in, and start again! With more than 3,000 reviews on Chewy, this puzzle is quickly becoming a go-to for dog owners alike, and coming in four separate sizes, we can see why.
If you're looking to splurge, iDig provides an excellent source of mental and physical stimulation, especially for dogs who like to dig. The puzzle creates a mess-free opportunity for your pup to search for and discover hidden treats concealed in the various layers of the toy and is available in two separate versions.
Final Thoughts
Just like humans, it's essential for dogs to be mentally stimulated! When not given the chance to pursue natural enriching behaviors (digging, sniffing, chewing, or—in the case of most German Shepherds—working), dogs are prone to boredom and frustration, and may even act out.
Thankfully, puzzles and toys provide an excellent opportunity to not only amuse your pup but to engage in mentally-enriching learning activities that alleviate excess energy, in turn encouraging good behavior. While there are a number of ways to tackle this, we hope you'll have no trouble finding the perfect puzzle to keep your German Shepherd occupied with our list.
Related Posts