Australian Shepherds, also known as Aussies, are a wonderful and popular breed. They are very intelligent and energetic, easy to train, and good family dogs. Aussies are even used as service dogs to aid those with disabilities. However, one thing that may be a little difficult to ascertain is whether they like other dogs.
Because Australian Shepherds are a naturally friendly breed, they do tend to like other dogs. However, their herding tendencies and high-energy personalities may cause tension and scuffles with other dogs, particularly if they are not already introduced.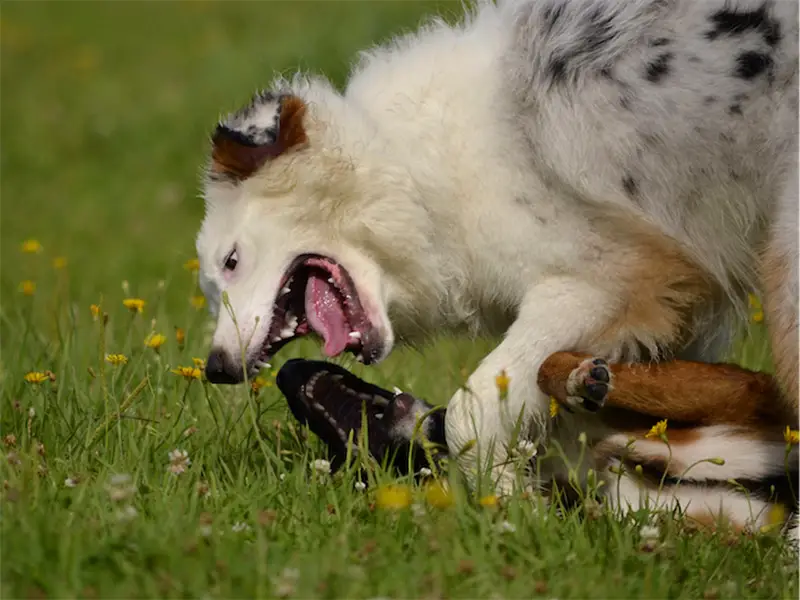 If you are interested in adding an Australian Shepherd to your family, be sure to keep in mind the age of the Aussie as well as your other dogs, and be prepared to commit time to get them acquainted. Read on to learn what to look out for and some tips to help socialize your Australian Shepherd.
Do Australian Shepherds Like Other Dogs?
Australian Shepherds are affectionate and generally good-natured dogs. They are protective of their own and can get along great with other dogs if they are socialized with them from a young age. This can be accomplished in various ways, but if you are planning to add an Australian Shepherd to your family, there are certain dog breeds they will likely get along better with. 
If you have any of the following kinds of dogs, an Australian Shepherd will be a great addition to the family and will fit right in:
Labrador Retriever
Bernese Mountain Dog
Golden Retriever
Havanese
Beagle 
The loving and laid-back nature of these breeds will keep scuffles between them and an Aussie to a minimum.
Are Australian Shepherds Good with Other Dogs?
While Australian Shepherds are sweet dogs and very affectionate toward those within their circle, including other dogs, they may not be so graciously inclined toward "stranger" dogs. 
Aussies are herding dogs. This means that they may nip at ankles or be a bit bossy with other dogs in an effort to corral them. This is especially true of dogs within their own family. 
Some dogs are okay with this kind of behavior, others are not, and fights may break out if you own another strong-willed dog who likes to be in charge or do their own thing. If you, however, own another dog that is more submissive and easy-going, they can get along great, and there will not be any issues. 
The best thing you can do for an Aussie to avoid this kind of tension and ensure that they don't get on your other dog(s)'s nerves is to give them a job and keep them active! 
Is It Better to Have Two Australian Shepherds?
Getting two Australian Shepherds can be a really great thing, or it can be less than ideal. It depends on your lifestyle, what is important to you, and how much time and money you have to invest. Below are some pros and cons to consider as you decide whether to get one or two Australian Shepherds.
| | |
| --- | --- |
| Pros of Having Two Australian Shepherds | Cons of Having Two Australian Shepherds |
| They would have a playmate. If the two dogs are adopted around the same age, they have more time to grow used to one another.  | Not good for small spaces. It can be very difficult if you live in a smaller space or do not have a large yard for them to burn off their energy. |
| Energy burned. Australian Shepherds are notoriously energetic, so having another Shepherd with an equal energy level to play with could be a really great way for them to burn energy without wearing their human companions out. | More of a time investment. If you have two (especially two of the same age), it will take more time to train them.  |
| An older Australian Shepherd can have a positive effect on a younger one. If you have an older Australian Shepherd who has already been trained and a puppy, the older one can show the younger one "the ropes" and make training a second easier.  | More destructive. If you have two from the same litter (or the same age), there is the potential for more destruction as they are both still learning the right way to behave and may egg each other on. |
| It is a good option if you have long workdays (once you've trained them). That way, they won't be lonely. Dogs thrive with companionship. | Time intensive. Training two may be a lot for one person to handle, so you may have to have a family member help you out (or pay a dog trainer).  |
| Twice the fun! Having two Aussies means twice the love and joy of watching them play and discover the world.  | Twice as expensive. Having two means twice as much food and twice as much veterinary expenses. |
| Good for families with kids. Aussies are great family dogs, so if you have young children with lots of energy, it can be a mutually beneficial relationship.  | |
How to Help Your Australian Shepherd Get Along with Dogs
The best thing you can do to help your Australian Shepherd get along with other dogs is to socialize them as soon as possible. Between 3-12 weeks of age is the best time frame to start socialization with Aussies. However, do not get discouraged if you have an older Aussie. They are not impossible to socialize; you just need to have a little extra patience and realistic expectations.
Socializing is a fairly simple thing to do if you already have other dogs in your home. However, if you are not interested or able to have another dog in your home, there are many other ways to go about this, such as:
Taking them for daily walks. In addition to being good exercise (highly recommended for super energetic Shepherds), it is very common to come across other people walking their dogs. This will give your Shepherd ample opportunity to see, sniff, interact, and get used to other dogs in a neutral environment. 
Enrolling in dog training classes. Doing this will give your Australian Shepherd plenty of time around other dogs in a controlled environment. 
Going to dog parks. If your Shepherd has had good interactions with other dogs on walks, you can take it to the next level and allow them to interact with more dogs at one time by taking them to a dog park. 
Rewarding good behavior. Keep treats on hand when you go on walks or in other environments where your Shepherd interacts with other dogs. When they have a good interaction with other dogs, reward them—both verbally and with treats.
Be sensitive to your dog. If your Australian Shepherd is the only pet in the house or is young, start off slowly with short social interactions, so they do not become overwhelmed. 
Conclusion
Make sure to have realistic expectations of your Aussie. Before you buy one, take note of the personality of dogs or other pets you may already have in your home and how they will interact with one another. Ease them into social situations and give them the time and space to acclimate to other dogs. 
Have a game plan for how you will train them, and note what works and what does not work. Most importantly, be patient, and you will find that Aussies are wonderful family companions and can be wonderful companions to other dogs, as well. Bright, loving, and attentive, they can bring joy and laughter to your world as they play and romp with other dogs—both in the home and in other social situations.