If you are lucky enough to own a herding dog, you know they have an impressive amount of energy that allows them to run around for hours at a time. After all, they were bred to move livestock from one location to another, traversing great distances daily. So what are some herding activities if there are no cattle or sheep to herd?
Herding balls provide a way for your dog to satisfy its herding instinct. A herding ball is large, weighted, and usually made out of durable material. Your dog can herd it by pushing, nosing, and nipping it into a goal or around the yard.
Read on to discover some of the best herding balls for dogs.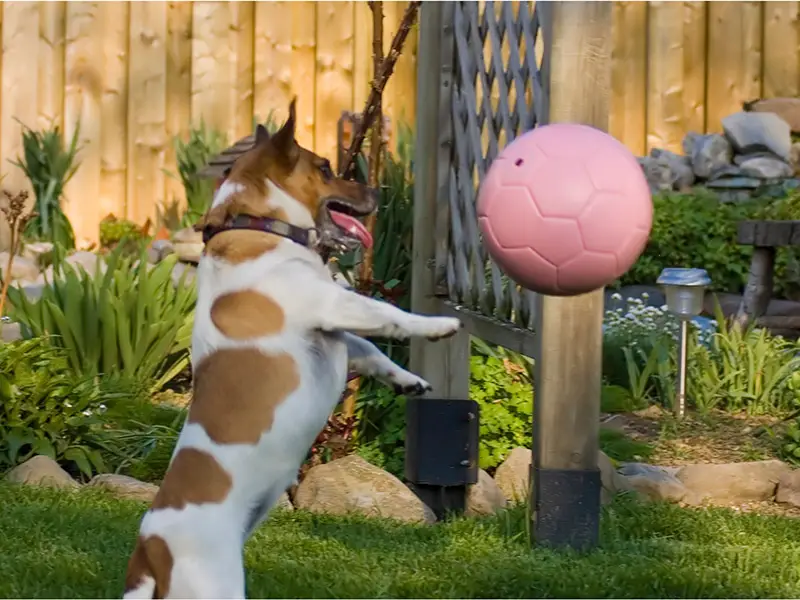 What Is A Herding Ball?
A herding ball is an interactive activity toy for dogs. Yes, herding dogs enjoy this toy the most, but even non-herding breeds can learn and have some fun with this simple toy.
Your dog can play with this toy without any input from you. It is a ball that is relatively larger than your dog. It is heavy, so your dog will not be able to carry it or pick it up. When playing with a herding ball, the simple rule is for your dog to push it and chase it around.
This repetitive movement of nudge and run is something that your herding dog enjoys! If you have outdoor space for it, a herding ball is a must-have in your dog's toy box.
And a herding ball comes with many advantages because it allows your dog to explore their natural herding instincts of chasing an object and moving it around with a little guidance and encouragement from its human.
A herding ball is also a great way to redirect any nipping habits and instead be a healthy way to provide your dog with mental stimulation.
What Is The Difference Between A Herding Ball And A Treibball?
A herding ball and the ball used in Treibball, a canine sport, are essentially the same except for some specific size requirements for use in the official sport.
Other names for herding balls are Treibball, dog bowling balls, giant dog balls, and boomer balls.
Herding balls used in Treibball should follow the sizing guidelines of the American Treibball Association. If you intend to use it for playtime in your home, you can pick the most convenient size for your dog.
What Are The Best Herding Balls For Dogs?
Made in the US, this Push-n-Play herding dog is the best among all the herding balls available on the market today.
This herding ball is made of heavy plastic that can withstand the relentless pushing and nosing outside. And because of its plastic material, dogs won't be able to pick it up with their mouths. It might take some time, especially for non-herding breeds, to figure out that they'd need to push it around to enjoy the ball.
And here's the delightful bit. Once your dog finally understands the concept of playing with the herding ball, the fun will be nonstop. You'll be delighted to know that because of its durable hard plastic material, it can endure rough play.
Tip: Designed for outdoor use, herding balls shouldn't be used indoors since it may bring chaos into your house.
As the name suggests, the Horsemen's Pride Mega Ball Horse Toy was initially intended for horses. Yes, horses do enjoy pushing balls around too! So you can expect this ball—which can also serve as a herding ball—to be massive. This is an extra-large inflatable exercise ball that is made of thicker material.
This Mega Ball comes in three sizes—25, 30, and 40 inches, so there's one for every breed size. But it is best that you steer away from this particular herding ball if you have a smaller breed.
If you want to start your pup early with a herding ball, the Rocco & Roxie Dog Toy Ball is your best option. New dog owners can feel at ease knowing that this herding ball is specifically made for puppies and is made with non-toxic materials.
It can withstand rough play and exposure to the ground, so you don't have to worry about it fading and rupturing even if your dog is obsessed with biting.
The only weak point of this otherwise-perfect ball is the presence of a small hole on its top. Super-intelligent dogs may target this hole, and when their sharp teeth get into it, you may have to say goodbye to your herding ball.
This doggie herding ball from Heuter Toledo comes in four sizes and offers your dog hours of playtime.
You can fill this herding ball with either water or sand to keep it in motion, leading to continuous play. This is a good investment because it is virtually indestructible, thanks to its hard plastic material.
Made in the US, this herding ball is perfect for outdoor play, and you can expect it to weather the roughest herding dog breeds.
This boomer herding ball is apparently indestructible and perfect for a ball-obsessed dog who may be an aggressive chewer.
Suitable for dogs with relentless energy, you can count on this herding ball made from polyethylene to survive all of your dog's nips, nudges, and rolls. You don't have to tell your dog to play gently because they can't puncture these balls or rip them to shreds.
And since it comes in various sizes, you can find one most suitable for your dog, even if your pooch is not a herding breed.
How To Teach Your Dog To Herd A Ball?
Your dog will figure out how to herd a ball with minimal to zero instructions or intervention from you by instinct and curiosity.
But if your dog needs a little encouragement, you can teach your dog how to herd a ball by example. You can start lightly nudging or kicking the ball and following it wherever it goes. Keep on moving the dog around with your feet and slowly set it in the direction of your observing dog.
You can also leave the herding ball in your backyard. Your dog will eventually understand how to play once it discovers the "concept" of this toy. Once it does, your dog will be pushing it around the yard for hours.
Final Thoughts
A herding ball is a fun and healthy addition to your dog's toy box. So if your dog likes to gently nip, nose, or try to guide you around the house, these giant, durable balls can help satisfy your dog's herding tendencies!
Related Posts